I had the whole driveway open before this last bout of snow. It's proving to be harder to move than the first batch....because I can't push this stuff. It has to be bucketed up and over the first removal.Add that it has blown into five and six feet drifts...and begun to crunch down into a solid mass.
The first 50 feet.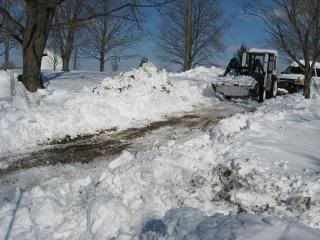 The other 1350 feet...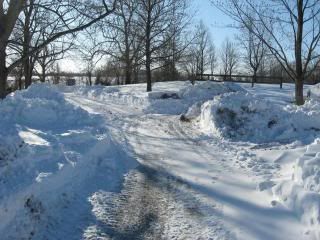 Saturday: Finally out to State road again. As I hear it, there was a large backhoe out there all of last night working the 6 foot drifts on the one trough. It's clear now. These are the remainder of pics. they are in order and move the reader down my lane to the State road, which is seen between the pines at the end of the driveway.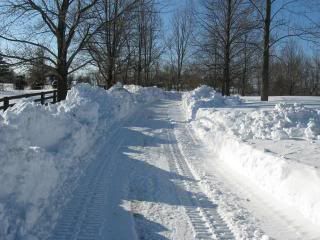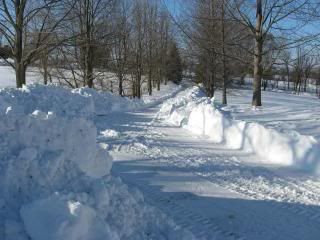 Been out to Leesburg for tractor fluid, deisel, additive and groceries. Had to evacuate the roof on the barn, lest we get two feet of glow-bull warming in the form of "snow showers".
Final tally for the 47" of Glow Bull warming:
2 front lockouts in the Dana 60 front axle, one high pressure bucket hose on the tractor, and a bill for a Skid loader cleaning what I couldn't after the hose burst. Amd it's only halfway thru February. The Almanac said something about 7 weather events this month. AAArrrrggghhhhh!