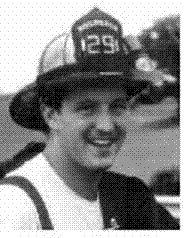 Jimmy was a friend. Jimmy was a firefighter, and a great guy. I last saw him in Aug. 2000 at a High School Reunion. He will be missed.
From the Culpeper
Star-Exponent
:
James (Jimmy) John Kratochvil, 46, of Culpeper, Virginia passed away at UVa. Medical Center, Wednesday, January 7, 2008. Jimmy was born to Joseph Kratochvil and Freda Connors Kratochvil February 24, 1962 in Long Island, New York; graduated from Culpeper County High School in 1980 and was a former member of the Culpeper Volunteer Fire Department (Co.1).
Surviving Jimmy are his parents, Joseph and Freda Kratochvil of Culpeper, Virginia; his siblings, Joseph Kratochvil and his wife Anneliese of Rixeyville, Virginia, Eileen Hunter and her husband Bob of Scranton, Pennsylvania, Maureen McNemar and her husband James of Culpeper, Virginia, Loretta Fleming and her husband Tim of Fredericksburg, Virginia and Jane Bunch and her husband Vernon of Culpeper, Virginia; his former wife, Arline Rupard Kratochvil and children, Taylor Rupard, Mark (Tony) Kratochvil and Joseph (Joey) Kratochvil and twelve nieces and nephews.
Funeral services will be held Monday, January 12, 2008 at 10:00 a.m. in Precious Blood Catholic Church with Father Leo Zonnaveld conducting the service. Interment will be private and at a later date.
In lieu of flowers, memorial contributions should be made to the Culpeper Volunteer Fire Department, 151 West Davis Street, Culpeper, Virginia 22701. Condolences may be given at
clore-english.com
.
Arrangements have been entrusted to the Clore-English Funeral Home, 11190 James Monroe Highway, Culpeper, Virginia 22701.