That's County Board of Supervisors Chairman Scott York (I) standing beside BroadRun District's Lori Waters (R). Eugene Delgaudio -Sterling (R)- was in the audience, and we chatted briefly.
Scott handled the opening at 9:00 and as an Independent, he endorsed McCain and Palin. Ms. Waters led us all in prayer after Scott's remarks. There was a rendition of the Star Spangled Banner, and a couple of other speakers, although I was trying to catch up to a couple of folks in the audience at around that time.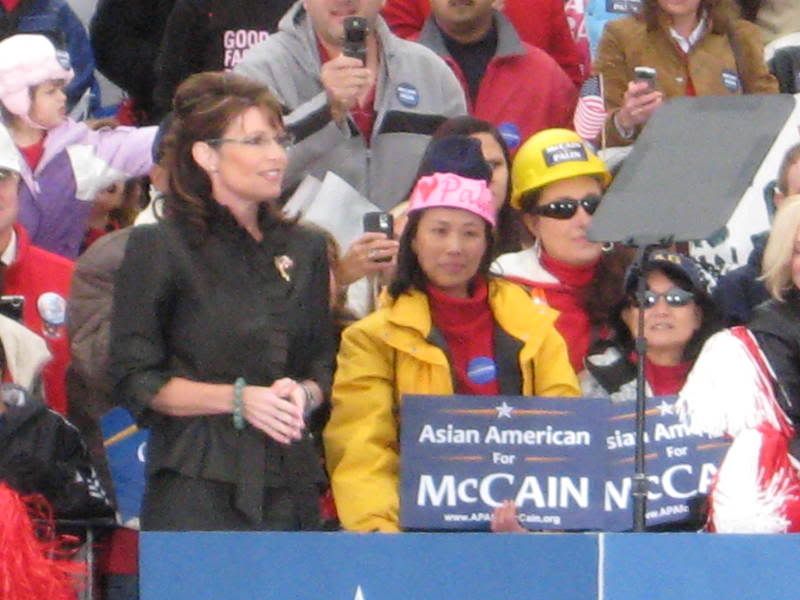 Sarah....The Barracuda.
Palin arrives on stage, waiting to be introduced. Tito "the builder" did the honors, so I'm sure that the Democrats are already busy mining for his personal info on a Government computer somewhere.
The attendance is good for a Monday Morning, especially with the first real cold front moving thru the crowd, dropping the temps from a mild 55 degrees to a chilly 40 degrees with wind. Because many had not brought heavier clothing, the crowd that toughed it out to see Palin began to leave immediately after she'd addressed the crowd. I took a decent coat...and even I was chilled by the weather bursting in. I did a rough count of approximately 4000 folks at somewhere near the end of the gate backlogs.
Due to the layout of this blog and my huge pictures... The last picture only seems to display about half of the "inner circle" (those VIP and activists who are the boots on the ground, house to house and phonebanking corps.) If you look at ther second Palin pic, there are actually three people standing to her left in the original picture....same thing.
The last pic in it's entirety... and reflecting a mere half of those in the stadium portion of the event. The microphone on stage is just visible in the far left of the pic, right under the star on the "Country First" banner.