Ran into an awful lot of friends and caught up with many in the Blogging world that I hadn't met personally. The Convention was a great place to have them all in one place for one massive visit.
Vince Harris was out front, as usual. Vince is the brains behind
www.tooconservative.com
and has actually matured into a fine young gentleman...as I slowly age. But that's the circle of life.
Aside from the obvious Bloggers Row coverage, contributor Salem Republican was there, as was Kelley in Va., Carl Kilo from
Sparkitup.com
,and a few others that I chatted with.
I visited my home contingent, the Culpeper and Madison contingents, and ran into Rep. Ed Scott while I was there. I visited with Lt. Gov. Hagar for a moment, I ran into Bob McDonnell, and Bill Bolling while I was down on Blogger's row..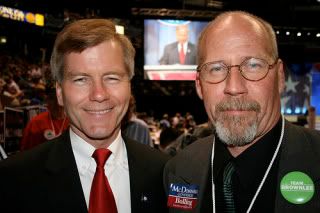 This was a whirlwind of activity, and while it provided me with the chance to see so many republican activists and bloggers in one place, a primary would have yielded better results, and coupled with a Statewide blogger's convention somewhere in the State......both could have been accomplished.