The difference in the following form and what's been previously touted as an acceptable substitute. This one is generally used for visas, passports, background and security checks, and military service enrollment.
This one, combined with a buck and a quarter, will get you a mere cup of coffee.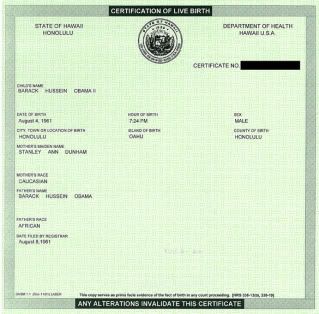 Notice, the main difference here is an actual hospital location (and name), as well as an attending physician. Among the other differences -- there are actual signatures and street addresses.
But of all the things you can see, there is one more thing you can't. Those who weren't born in Hawaii, or weren't actually United States citizens got the latter, and only US Citizens actually born in Hawaii got the former.
I've had to show my long form when I joined the service. I had to show my long form on every secret and top secret clearance I've ever held. Now, the President is so special that he doesn't need to meet the very same criteria that the rest of us are expected to pass??
And at this point, he's spent upwards of $800K in lawyers to assure that we don't see his long form?
Tell me again, how I'm supposed to just drop the subject.
Update:
There is now a $10,000 dollar reward for anyone who can provide the original long form or show it unaltered, complete and legal.
UpdateII:
In another step forward in this saga...A yet to be authenticated birth certificate popped up on Ebay. Now Ebay has had their share of wild, ground-breaking, moral compass pegging moments (remember the virginity sale that was flagged some years ago?)-- but around early morning Friday, a funny thing was listed. It was
Barack Obama's Kenyan Birth Certificate.
By Saturday morning, it had been pulled. It was listed twice more. It was again pulled.
Curiously, it stated "President Barack Hussein Obama II was born in The Coast Provincial Hospital at Mombasa in Kenya at 7:24 p.m. on August 4, 1961."
So, my first thought in this 2009 technology era was, given the plethora of communication and information avenues available to us...this is merely a first step (if it is indeed real) and we will see the document , or somebody will get snuffed for attempting to show it to the world.