This looks interesting. A certified copy of a registered birth. To the Obamas. In Kenya. Entered at the District Registry Office the 9th of August, 1961.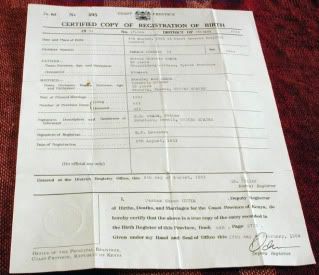 The release of the purported Kenyan birth certificate immediately prompted hundreds to challenge its validity.
As the document mentioned here became known as a forgery---I have a huge amount of dissappointment and disdain for the retard who tried to foist it upon us. God knows there's enough proof without manufacturing it.
In most recent news....Obama hasn't opened his records (any of them--so much for transparency, right?)radically changing course from the actions of every president before him since 1988. All of them produced their records (even if some of them did it grudgingly)...but this current guy is somehow above that. I guess he calls this stalling.... "change".
Here's the hypocrite of the week.