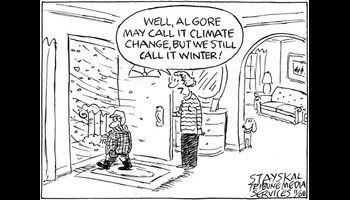 Cartoon courtesy WashingtonTimes
How bout global cooling.
Seems our friend over at NOVATownHall (who appears to have much more time than I)
http://novatownhall.com/2008/12/10/the-big-chill-on-global-warming-begins/
has located a couple of outstanding links to the phenomenum that I'm sure all of the "normal" folks have by now noticed.
http://washingtontimes.com/news/2008/dec/10/global-warming-freeze/
And then the scientist back it up...650 for global cooling vs. 72 for warming.
Smackdown??
http://epw.senate.gov/public/index.cfm?FuseAction=Minority.Blogs&ContentRecord_id=2158072e-802a-23ad-45f0-274616db87e6