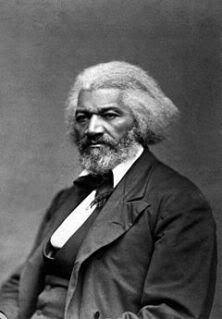 courtesy Wikipedia
February 1st begins Black History Month. For the first of what I hope are many installments, I want to focus on a man who did so much to elevate himself from his humble beginnings.
I admire Frederick Douglas. He was the original "grassroots" cultivator....having outright rejected John Brown's more violent actions for those actions that made a real difference in the end. It probably also saved Douglas from being present at the gallows where Brown was hung....and kept my forefather, Dr. Thomas Settle, from feeling for his pulse to declare him dead, as he did with John Brown.
No sir....Douglas took the higher ground, and worked within the system (and below it to the degree of running the underground railway)towards the freedom of all of his fellow blacks. He is the epitomy of dedication, and I respect his adherence to that task.
"I would unite with anybody to do the right thing, and nobody to do the wrong thing"
Here's
a fellow blogger's post regarding this great fellow.