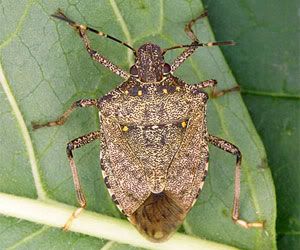 Photocredit to www.insectidentification.org
Rep. Frank Wolf (VA-10) will host a forum to discuss efforts under way to address the infestation of the brown marmorated stink bug and its impact on the local economy.
The forum is free and open to the public and is scheduled for 7 – 9 p.m. on Monday, April 18, in the auditorium of Woodgrove High School, located at 36811 Allder School Road in Purcellville.
A press release states "Though some may think of the stink bug as only an annoying household nuisance, I am well aware of the devastating impact that this invasive species is having on all crops," Wolf said. "I encourage all local apple and grape growers, farmers and nursery owners to attend and participate in the discussion."
It continues: Brown marmorated stink bugs feed on numerous fruits and vegetables such as apples, cherries and tomatoes. One study conducted in Georgia revealed a $27 million loss of crops in a single year due to the damage caused by the brown stink bug.
The forum will feature presentations from two leaders in the effort to attack this growing problem to the economy and food chain:
· Dr. Tracy Leskey, a research entomologist with the United States Department of Agriculture (USDA), will share data from a public-private working group she leads on the issue.
· Dr. Christopher Bergh, a Virginia Tech associate professor of entomology at the Alston H. Smith Jr. Agricultural Research and Extension Center in Winchester, will discuss his recent efforts to gain approval for use of an insecticide to assist with managing this problem.
After meeting with local farmers last year, Wolf joined a bipartisan group of House colleagues in asking officials at USDA to take immediate steps to limit damage to farmers and homeowners from the brown stink bug, which has no natural predator in the United States and has quickly spread to 33 states.
Wolf added ""We need a coordinated effort at all levels of government to respond to this growing problem. We are looking at both short- and long-term solutions, and I hope this forum will provide local growers and farmers with information for the upcoming growing season."